Motorized Blinds and Shades
Have a professional design
consultant provide you with a
FREE Estimate
By submitting this form, I authorize 3 Day Blinds to contact me by phone at the number provided above, including mobile phone, email or mail and using automatic dialing equipment, to give me information about window treatment products. Consent is not required as a condition of making a purchase.
3 Day Blinds motorized blinds and shades are a modern and sleek addition to any home. Your motorized shades operate via a remote control, or through the 3 Day Blinds motorized app.
Bringing home automation and smart window treatments into your home is a breeze with 3 Day Blinds. Our team of experts will measure your space, design the perfect window treatments, and install them for you. All you have to do is relax and enjoy the convenience of automated window treatments in your home!
Your consultation is a convenient and stress-free experience that transforms your home into a beautiful and comfortable living environment. We'll bring a showrooms worth of samples to your home, including a motorized shade so you can see the latest home automation technology. These window coverings make it easier to control the amount of light and privacy in your home. With 3 Day Blinds, you get the convenience of automated window treatments without the hassle of measuring and installing them yourself.
We have automated solutions for your home's window shades, perfect for almost any need. To learn more book your free in-home consultation today.
Making Motorized Window Blinds Smart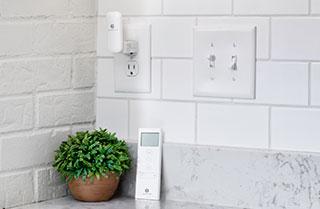 3 Day Blinds Smart Hub is an innovative product that enables the home automation features in your motorized window treatments. The hub connects to your home Wi-Fi network. Control your window treatments from anywhere using the 3 Day Blinds app. Download the app for free from the Apple App Store and Google Play Store.
With the hub connected you can automate the opening and closing your window treatments with just a few taps on your smartphone or tablet. Automated window treatments keep your home secure, increase energy efficiency, and make your home a more comfortable and convenient place to be. The 3 Day Blinds Hub is essential for anyone who wants to enjoy the convenience of motorized window treatments without any hassle.
Morning sun coming in a little too strong? Timers and scenes are an easy way to tackle lighting problems and more. With timers and scenes you can program your motorized shades to work around your schedule meaning morning sun on you day off is a thing of the past.
During your window shades installation, our technician will help you learn how to set up scenes and timers. They will walk you through the steps needed to connect your hub to the app and any other compatible smart home devices. The possibilities for scenes and schedules are endless. If you need more help the app also offers step-by-step instructions when adding a shade to the app. You can also view step-by-step videos on our Motorized Window Treatment FAQ Page.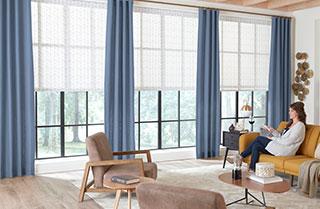 Motorized Blinds and Shades for Smart Homes
Motorized by 3 Day Blinds give you many layers of control. You can use the standard remote control, or use the 3 Day Blinds app. Sometimes, you need to be able to close your blinds and shades when you've got your hands full. Luckily, our motorized shades are also compatible with smart home devices like Amazon Alexa, Google Home, and Siri shortcuts.
You can create simple voice commands like "Open Kitchen Blinds" and your kitchen blinds will open. Commands can also be part of preset routines like "Good Night" that closes all window treatments and turns of all the lights. This application is especially nice for hard to reach windows. What are you waiting for, get your smart blinds today.
A Better Way to Buy Window Treatments
3 Day Blinds has been in business for more than 40 years and is a trusted manufacturer and retailer of high-quality custom window treatments. We offer Blinds, Shades, Drapery, and Shutters. Our window treatments are custom built to fit your home and will give your windows a refined finished look. You'll be sure to wow your family and friends when they see what new window treatments have done for your home.
The process is simple. Book a free, no-obligation design consultation and a locally based design consultant will come to you in your home to help design your perfect window treatments. Your designer will take precise measurements and can even arrange installation for you.
What Window Treatments are Available for Home Automation?
Motorized by 3 Day Blinds is available in Cellular Shades, Roller Shades, Roman Shades, Horizontal Sheer Shades, Soft Roman Shades, Woven Wood Shades, Simply Sheer Shades, and Drapery. Ask your design consultant for more details on what solution is right for your need.
Our motorized products can use a rechargeable battery system to operate and can be plugged in to a power source to recharge so no need to worry about constantly changing batteries etc.
3 Day Blinds motorization options create a more comfortable and automated space letting you focus on the things that matter. To learn more about the benefits of home automation call or use our online scheduler to book your appointment today!
Already purchased and have questions? Please visit our Motorization FAQ.