Finding the Right Window Treatment Style for Your Home
At 3 Day Blinds we pride ourselves on having something for everyone, that's why all of our products are custom made to fit your lifestyle. All of our window treatments are customizable to your preferences so you get the perfect product with your desired style and function. Keep reading to learn how to choose the right window treatment your any room in your home!
The Process to Perfect Window Treatments
---
In-Home Design Consultation
The process starts with our free in-home design consultation where you meet with an expert designer in the comfort of your own home! Along with designing your new window coverings, they will take measurements of all of the windows you are interested in and answer any questions may you have. Need better light control? Your windows are too hard to reach? You're looking for something water resistant? We can help you find the perfect window treatment for every room!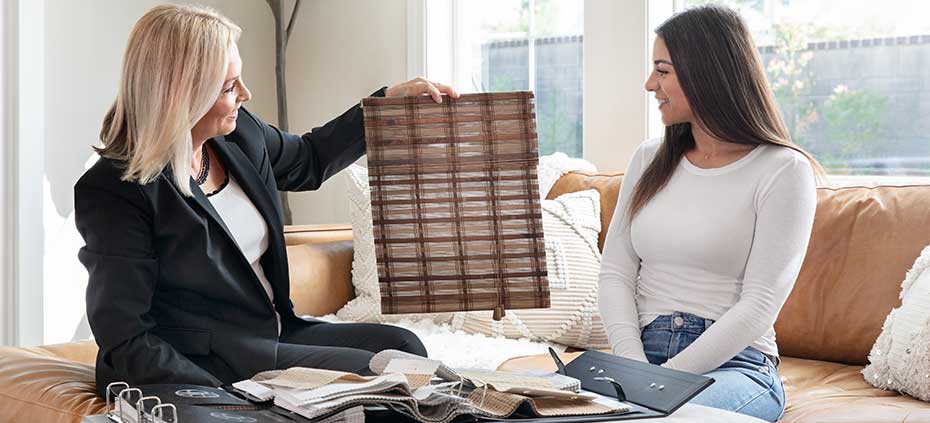 Selecting Your Window Treatment
At 3 Day Blinds we have a variety of window treatments to choose from within four categories: Blinds, Shades, Drapery, and Shutters. Our name may be 3 Day Blinds, but we do a lot more than just that. Within each product category are a selection of high quality window treatments. Learn about all of our window treatment options before your consultation by viewing our variety of products.
Choosing The Style
Choosing your perfect style is simple when you have a highly trained Design Consultant by your side. When it comes to customizing the ideal window treatment for your home there are several things to consider - the color, the style, and the function. We have a multiple options for you to choose from when it comes to color or pattern. Here's a tip on deciding the right color. Take the swatch, tape it or have someone hold it to your window, and stand back. Now you can see how that color would look from multiple spots of the room. Still can't decide? Leave it there throughout day/night to see how it looks when the sun hits at different hours. For style you'll need to think about how you want your window treatment to look. This could include the vane height, the valance, the hem, the slat height, etc. This coincides with the function of the window treatment, also known as the operating system. Here you would decide if you wanted motorization, cordless, top down bottom up, wand tilt, and more. It can be overwhelming to see all of the different options, but we are with you every step of the way!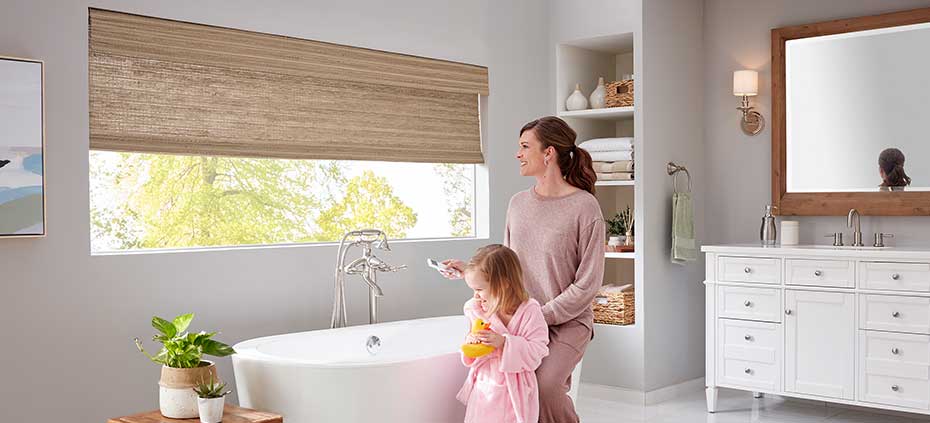 Additional Benefits To Think About
Window treatments are an important addition to your home and can make your space feel complete. Not only do they elevate the look of your room but they can actually benefit the way you live. Our motorized window treatments can be controlled with the touch of a button using the 3 Day Blinds app or with voice commands on Amazon Alexa and Google Home. In addition to being convenient for hard to reach windows, they are also the safest option for children and pet's because there are no loose cords. Other cordless options include UltraLift Cordless™ system, Drapery Panels, and Shutters. You can learn more about the safest window treatments for your family at the resource center at 3DayBlinds.com.
Did you know your window treatments could be eco-friendly? At 3 Day Blinds we have sustainable options to choose from across our product lines that are made from eco-friendly fabrics and materials. You can also select from a variety of energy efficient options that add an extra layer of insulation to any room. This could help lower your heating and cooling costs and protect your furniture and flooring from sun damage. Make your house feel more like a home, for your whole family, with new window treatments.

We are by your side every step of the way, from start to finish. We don't expect there to be any issues with your order but if you have any questions please don't hesitate to reach out to your Design Consultant. When it comes to designing new window treatments for your home we like to make the experience as personalized as possible. Schedule your free in-home design consultation today to customize new window treatments for your home! Don't know where to start? Check our Instagram, Facebook, and Pinterest for inspiration!