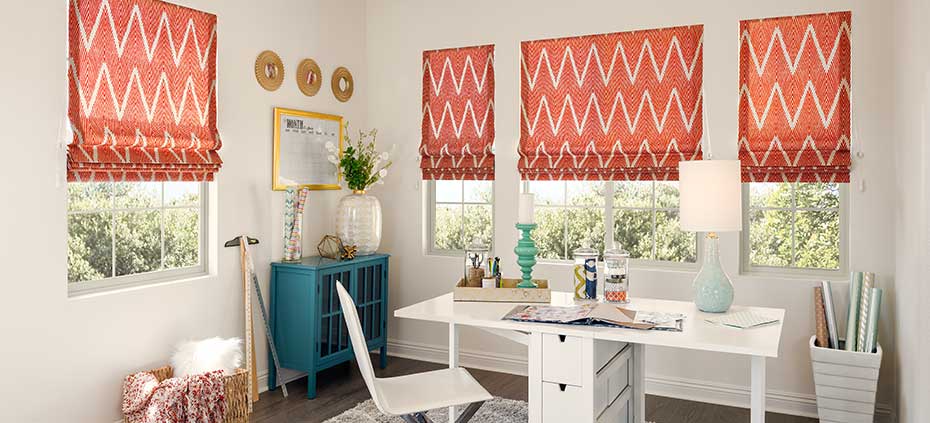 5 Tips to Update and Decorate Your Home Office Space

Have you peered around your computer monitor and stared at your work from home space in horror?
Trying to work in a drab, plain space can hinder motivation and productivity. Whether you feel like your new home office needs a couple of light touches or a full home makeover, the changing season is the perfect time to touch up your space.
Easy Ways to Refresh Your Home Office
When updating your home office space, start with areas that are going to give you the greatest return, and create the best ambiance.
Spring for a New Rug
Adding a new rug to your home office is a quick and easy way to provide pops of color or a new texture to the space's decor. You can start with a small woven rug under your work desk or a colorful circular rug placed in the center of the room.
If your WFH space is also part of the TV room, consider a rug that helps create separation for your corner of the room. There are endless options when it comes to placing a new rug in your work-from-home location!
Upgrade the Furniture
An important part of your workspace is the furniture. You want your home office furniture to be comfortable, functional, and look good. Invest in a quality desk chair that looks sleek but provides the appropriate back support you'll need for a long day at your computer. If you have room, add a small loveseat or recliner to relax in between work assignments!
Change Your Window Coverings
You can also update your window coverings as a simple way to enhance your work-from-home space. You may have noticed last year that your office or desk area was cold or impersonal during the chillier months. With fall looming, you can upgrade window treatments to ditch that lap blanket you've been hiding during Zoom calls.
Whether you're changing your treatments for eco-friendly savings or to add an autumnal pop of color, choose window coverings that allow for precise light control so that you can adjust how much natural light is in the room while you're trying to work. If you find that there's too much light washing you out during Zoom meetings, try room darkening shades to improve your background.
Invest in a Good Desk
Your desk is one of the most important aspects of your workspace. You want to invest in a desk that fits well, looks great, and provides all the necessary functions. Choose a desk of material and finish that complements the aesthetic you're going for. Make sure that it has compartments to store whatever you need for your workday, and most of all, make sure that it actually fits well in the room.
Add a New Pop of Color
Adding a burst of color to update your space is a great way to improve the visual of the room and increase your productivity at the same time. Painting your home office a bright color or adding room accents in vibrant shades can actually make you feel more motivated to get work done!
Your blinds, curtains, or shades should reflect the style and ambiance of your home. So if you've updated the furniture in your home and the other interior decor, make sure that you book your FREE in-home design consultation with a window coverings expert at 3 Day Blinds.