For innovative styling that fuses the graceful look of sheer fabric with the diffused light control and privacy benefits of Horizontal Blinds, look to 3 Day Blinds and their fashion-forward design team who have created a stunning collection of Horizontal Sheer Shades. The horizontal fabric vanes in our sheer shades preserve your view and provide a soft, diffused light when tilted open. When tilted closed, our Horizontal Sheer Shades provide an effective barrier against incoming sunlight. Their unique design also allows for the shades to roll up, concealing the entire shade in a fabric covered headrail, retaining your unobstructed view.
Several thoughtful styling features have been engineered into these popular window treatments including the continuous Cord Loop Operating System which allows for smooth and effortless movement of shades on virtually all window sizes. Because we manufacture our own brand of Horizontal Sheer Shades, 3 Day Blinds maintains strict quality control standards, ensuring your fabric vanes won't become detached from the sheer panels.
Perfect for traditional style homes
Ideal for those that enjoy the view through of a sheer but also need privacy
Great for homes with children when ordering motorized operating system

Choose a swatch to preview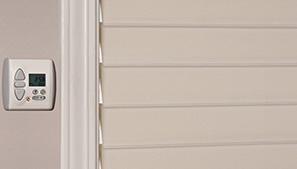 For the ultimate in both simplicity and safety, choose the Motorized Operating System that eliminates lift cords that can cause potential safety concerns. You can even program Sheer Shades to automatically open and close at certain times of the day.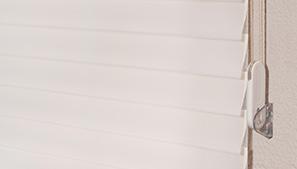 Standard on Horizontal Sheer Shades, our Continuous Cord Loop Operating System features a tension pulley that neatly attaches to the wall or window casing, allowing for smooth and easy operation. This also makes for a safer choice for homes with children or pets. We even offer extended length controls at no additional charge.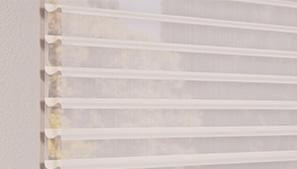 For smaller to medium size windows, our 2" Vane is an ideal choice for most living spaces.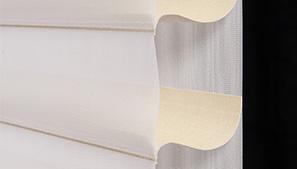 Available in a host of fabrics and colors, choose our wider 3" Vane for larger, taller windows.