Curtains vs. Drapes Explained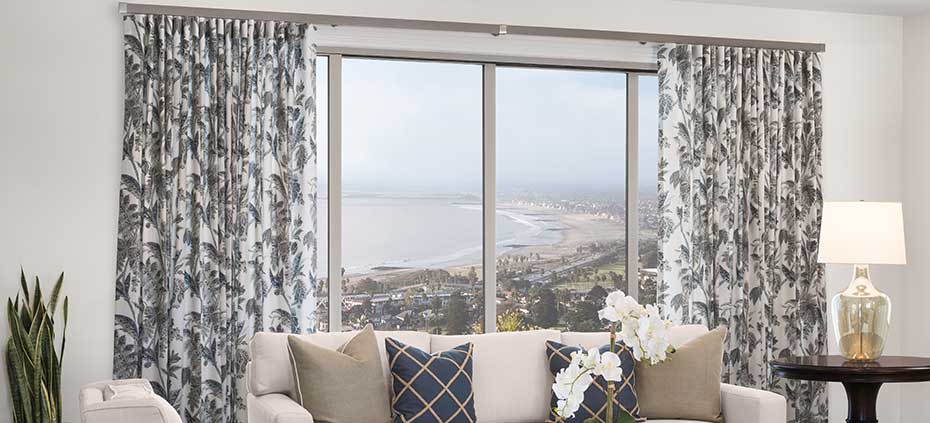 Curtains vs. Drapes: Tips on Getting Started
Your home is a place that should feel uniquely yours; often, that uniqueness is derived from your interior design. One way to significantly impact your home's décor is by updating your window treatments. With so many varieties of window treatments, some homeowners have trouble keeping blinds, shades, shutters, curtains, and drapes in their proper categories. 3 Day Blinds has you covered in understanding the differences between these products. Knowing the difference between curtains and drapes can be one of the most significant points of confusion for homeowners.
Curtains vs. Drapes: What is the Difference?
You may be surprised to learn this, but many interior design experts have used the terms curtains and drapes interchangeably over the years. While these two window treatments are very similar, some subtle differences exist between curtains and drapes. Typically, a curtain is any piece of fabric hung on a rod to cover a window. By this definition, a drape is also a curtain. The difference between curtains and drapes truly comes from the fabric you use. A curtain is typically made of lighter-weight materials that are often unlined or sheer to filter light out of the room rather than blocking it completely. However, drapes are made with heavier fabrics and often have back linings sewn onto them to help further prevent light. Drapes with liners are called blackout drapes because they help keep a room dark.
How are curtains and drapes similar?
As stated above, curtains and drapes are both window treatments hung on a rod to create a covering for your window. One considerable similarity is that curtains and drapes operate in the same way. Drapes and curtains are often sold in pairs of panels and open from the center; this application is called split-draw and is very popular. Drapery and curtain panels can also be made as a single piece of fabric that opens from the right or left. This is called right or left draw, depending on how the drapery or curtain panel opens. Additionally, some homeowners opt for a more decorative look and choose a stationary drape or curtain. These styles do not open or close and are frequently used as statement pieces to frame a window or to layer on a window that has a blind or shade already installed.
How do you decide between curtains vs. drapes?
As you now know, the terms curtains and drapes are almost interchangeable, so how do you decide between curtains and drapes. The short answer is that you choose the treatment that will best work in the space you are designing. The longer answer is that because these two products are so interchangeable, you should look at the factors that matter most to you for the room you are installing them. Ask yourself some questions like: Does this fit my overall design? You may find that you have found a great fabric for curtains in your bedroom, but when you see a swatch of that fabric in your bedroom window, you realize it does not match your décor. In this instance, it would probably be good to see if the material comes in another color or option to not cause a clash in the overall design.
Ask yourself, "What need am I addressing by adding window treatments to this room?". That answer can vary from something like reducing glare in your living room by installing curtains or drapes. That answer may also be that you want a design refresh. Whatever your answer, it is good to consider what types of window treatments help in the room you are designing. Drapes in your bedroom could help you sleep if your room is too bright in the morning. Or maybe your living room has windows that allow your neighbors to see in – drapes and curtains are great to help increase your privacy.
Let's work together!
Whatever you decide to call curtains or drapes, 3 Day Blinds is there to help you with your curtains and drapery needs. Our design consultants come to you at your convenience and bring the browsing to your home! Looking for some inspiration? Check out our selection of drapery and curtains! We carry a showroom's worth of samples to your home and work with you to help design the perfect window treatments for your entire home. Are you looking to get started? Book your appointment here.