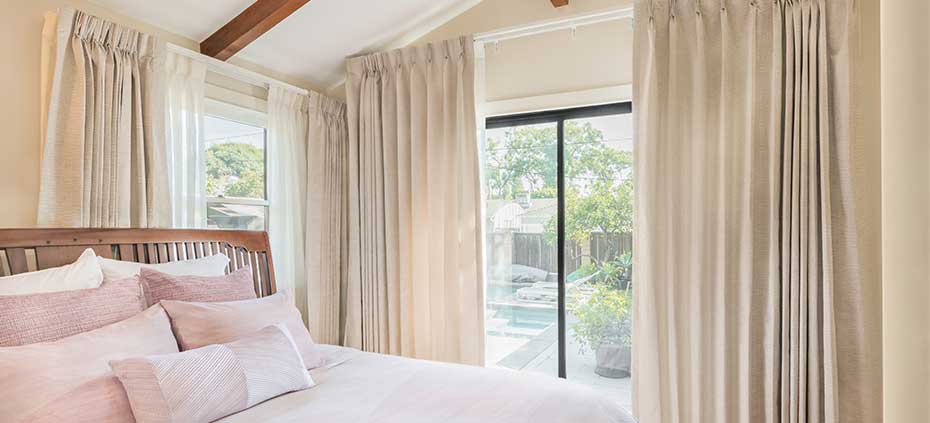 ​​Drapery and Shutters: Adding More Decor Indoors

Are you struggling to decide which window treatments to use in your home? You may like the appearance of drapery but prefer the function of shutters. Choosing one of the two helps add charm when you're decorating your home for functionality and aesthetics.
If you're having trouble making a choice between drapery and curtains or shutters for your home's windows, we'll break down the differences to help you choose
While they're both popular window coverings, curtains and shutters are vastly different. Each has its own unique look and specific functions. Determining which is best for your windows depends on what aesthetic drives you and what purpose you want your window treatments to serve.
Drapery
The appearance and function of drapery is unique. Your fabric choice can determine whether they serve a privacy function or as a stylistic touch to your room.
Appearance: More commonly known as curtains, drapes are fabric window treatments that hang from a metal or wooden rod. Curtains that you hang in your home can be made from a variety of different materials, including cotton, linen, polyester, and silk.
Curtains can be patterned, solid, or sheer, and they come in an endless array of colors. Since there are so many options to choose from, drapery is an excellent choice for homeowners looking to fit a certain aesthetic.
Function: Drapery serves as a tried and true window covering. You can pull the fabric hangings toward the center to keep light out or push them aside to open up the room.
Curtains of thicker material can act as "blackout curtains" or for "room darkening" to keep outside light from leaking into your home. Thinner, more sheer curtains work primarily as decorative embellishments. A downside to drapery is that it often needs to be dry-cleaned.
Shutters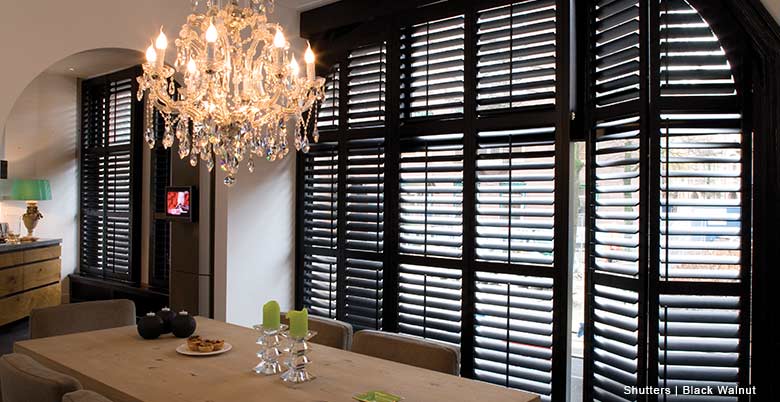 Shutters differ significantly from drapery in appearance and function. You can open them in the warmer months for ventilation while keeping your style.
Appearance: Shutters are a solid, stable window covering inside of a frame with horizontal or vertical panels that can be adjusted to open or close.
Shutters are custom-made to match the appearance of your home's decor, making them an excellent choice for homeowners who want a specific look to their window treatments. Their operation systems can easily be set to motorize to add to your smart home.
Function: Shutters serve as a great privacy window covering. The panels can be easily adjusted to serve your wishes of light and privacy at any time. An advantage of shutters is that they can be easily cleared with a feather duster or wiped clean with a wood-safe cleanser. And they are the only window treatment that adds value to your home.
How to Decorate with Drapery or Shutters
Whether you choose drapery or shutters for your home, the decor options are infinite. Your window treatments can become a decorative piece within your house. Curtains come in endless colors, patterns, and materials, so that you can use them to enhance any room in your home.
Shutters are a great way to bring the outdoor look indoors. Custom shutters made from wood or faux wood can give your home a natural, bohemian aesthetic.
To learn more about drapery and shutters, or to pick your favorite from 3 Day Blinds, schedule a FREE
in-home design consultation
!