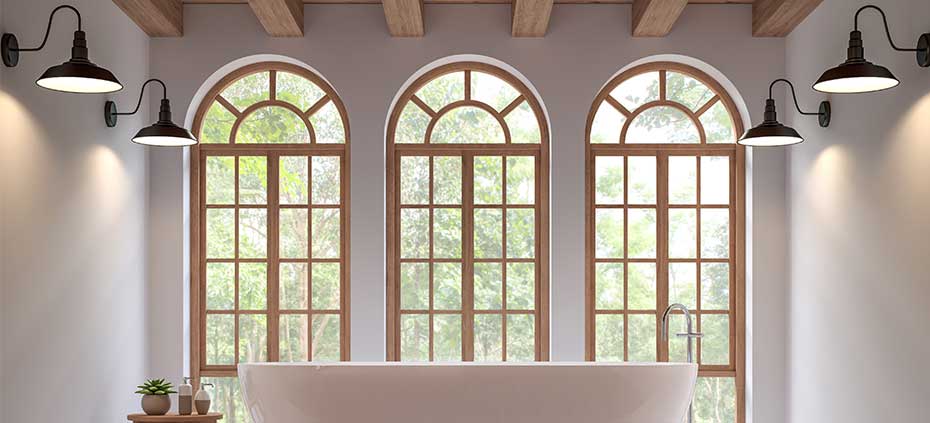 Choosing Blinds for Specialty Windows

Specialty windows make your home unique both inside and outside. As you're redecorating your space, however, you notice quickly that those curved windows and windows with irregular angles can create challenges for coverings that you might not have with rectangular slider windows.
The good news is that it's not impossible. While you might not be searching for Roman Shades or Roller Shades for these windows, you'll still find the perfect covering that matches your style. If you have specialty windows in your home, take a look at these tips for choosing blinds below.
There are two types of windows called "curved." The first is a window arched along the top edge, such as a half-round, full-round, quarter-arch, or round-tip window. These windows look extremely elegant, and only custom-made blinds will do the job.
These custom blinds are designed to cover the top, arched portion of the window where the window coverings fan out. For the remaining part of the window, window treatments of any kind are a good choice.
Another type of curved window projects or bends outwards from the house's interior, like a bay window without straight edges. The best kind of window treatment for these windows would be vertical blinds. Vertical blinds can adhere to the shape of the window, and you can easily maneuver them along the window's curvature.
Some homes have a modern aesthetic with angular windows. That includes shapes like triangles, octagons, peaks, and even trapezoids. These window shapes are very appealing to people striving for a contemporary look.
Many homeowners take the simple route of using traditional curtains or drapery for these windows. These designs are a quick way to put up window treatments, but they can also cover your window's unique shape when you're inside your house.
If you want to admire your angular windows from both the interior and exterior of your home, the best choice is to have custom blinds made to fit your window's specific measurements. When working with your personal consultant, you can create custom-made wood, faux wood, metal, or vinyl blinds that perfectly suit your angular window. Shutters can also be designed to fit these shapes with operations motorized if your windows are in higher locations in your home.
If your home has a basement with windows, you know that they are sometimes strangely designed (for instance, hopper, glass block, and awning windows) and are often much shorter than the windows throughout the rest of your home. They're sometimes oddly shaped since many builders squeeze openings into their basement design plans to add extra light.
The easiest way to find blinds for short basement windows is with custom blinds and drapery made to fit the window's exact measurements. You can customize your blinds using any materials to fit your style, such as metal, vinyl, and wood. Today, you can even use faux wood to create custom horizontal blinds.
To learn more about specialty window solutions by 3 Day Blinds, schedule a FREE in-home design consultation