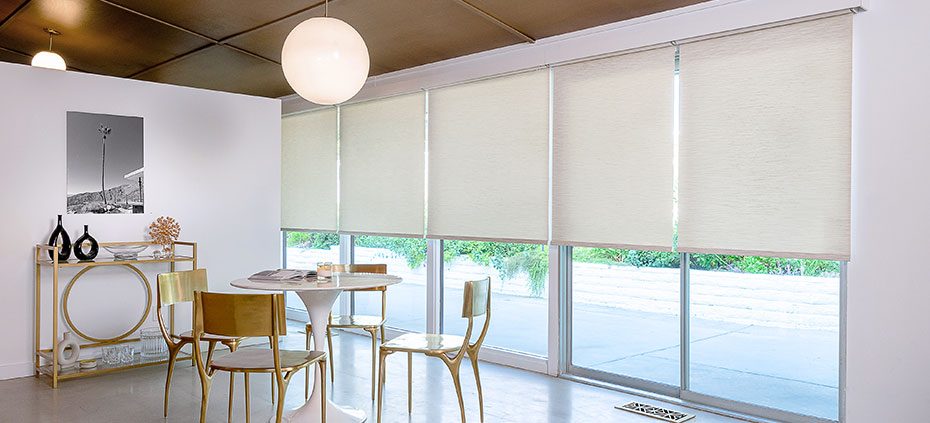 Style Guide: Modern Window Treatments
Are you a fan monochromatic palettes, clean lines, and minimalism in your interior design? If so, you might consider yourself a Modern Interior Design Styles fan. Modern Design is a style that dates back to the 50s and 60s and is still a popular choice for homes today.

At 3 Day Blinds, we keep our finger on the pulse of interior design trends. We have options to help you complete your design project with beautiful modern window treatments. Before we show you some of those options, it is essential to note that a Modern Interior Design style doesn't necessarily mean "current styles" or "of the present moment." In the design world, designers would say contemporary window treatments/interior design if you are discussing current fashions. With that out taken care of, let's look at some of the options 3 Day Blinds offers.
In modern design, clean lines and minimalism reign supreme, and we can't think of a better style of window treatment that fits the bill than roller shades. 3 Day Blinds Roller Shades are some of our most versatile window treatments.
Roller Shades with cassettes are a great way to ensure your room's clean lines stay intact. This modern square cassette hides the roll, giving the shade a finished look. The cassette can be color-coordinated to fit your décor and the chosen fabric, elevating any window's appearance.
Light control is also a significant factor in choosing window treatments, and Roller Shades again fit the bill. We have an assortment of options, varying from light filtering fabrics to room darkening (sometimes called blackout) materials. When one of our locally-based design consultants comes to your home to help create your dream space, we will ask you what your light needs are. Are you looking to design a light and airy space that's great for daytime and outdoor ambiance in the evening? A light filtering fabric might be a perfect fit. Maybe you're looking to design a media room perfect for hosting gamedays or movie nights - in this instance, blocking the light will better serve your purposes. You're not alone when working with 3 Day Blinds; your design consultant will help guide you.
While monochromatic design falls under the banner of Modernist design, it doesn't necessarily mean you have to use just one color. When designing your room's window treatments, you can use neutral or earth tones to accent your decor. Drapery is a great way to bring these accents into your home.
A patterned neutral drapery can help elevate the room's decor by acting as a focal point. These focal points help draw the eye back to a centralized piece of the room; therefore, you will see the room as a whole instead of a collection of decorations.
Using draperies, as described above, is an excellent tip for dining rooms. Think of your dining room as a place to have an elevated dining experience. You can create an intimate and less distracting space by keeping to modern design principles.
Cellular Shades

Often referred to as Honeycomb Shades, Cellular Shades are another great way to bring Modernist design techniques into your home's decor. Cellular Shades have a sleek and slim design making the shades less obtrusive when fully open.
Cellular Shades are a window treatment style with channels or cells that allow for insulative properties, meaning your home keeps its temperature better throughout the hot and cold months.
Cellular Shades' strength lies in its slim and sleek design. As stated above, one aspect of designing with Modernism in mind is minimalism. In the window treatment world, we think minimalism should extend to the hardware required or that is seen to complete the project. Because of their unique shape - cellular shades can compress to a smaller size in or out of your window (depending on the mounting option you choose).
At 3 Day Blinds, we believe in the power of collaboration and teamwork. This mentality extends to our clients; we want to ensure you are in love with your window treatments. The tips and recommendations above are not the only options available. Your design consultant is with you to create a personalized design plan that will achieve the wants and needs of your project.
We can't wait to see what you've come up with and how we can help you bring your dream to life. Schedule your free in-home design consultation today and learn why people have trusted us for more than 40 years with their window treatment projects.