Bathroom Blinds & Shades Inspiration!
Enhanced Privacy Bathroom Window Coverings
Your bathroom is a place of privacy. 3 Day Blinds understands that while privacy may be your primary concern in your bathroom, you don't have to settle for something drab or boring. Our team of window treatment design consultants is here to help you design your dream bathroom. We want your bathroom window coverings to be more than just a covering; they should reflect the beauty in your home. Your bathroom window treatments should look beautiful while providing ample privacy.

3 Ideas for Bathroom Blinds and Shades
We know the alliteration of bathroom blinds flows off the tongue, but remember that blinds are just one product that 3 Day Blinds offers. We also provide shades, shutters, curtains, and drapery panels for your bathroom. Finding the right window treatment for your bathroom is easy when working with 3 Day Blinds. One of our experienced design consultants is with you every step of the way, making the process a collaboration that leads to your dream window coverings.
The ideas below are just 3 of the examples of window treatments for your bathroom.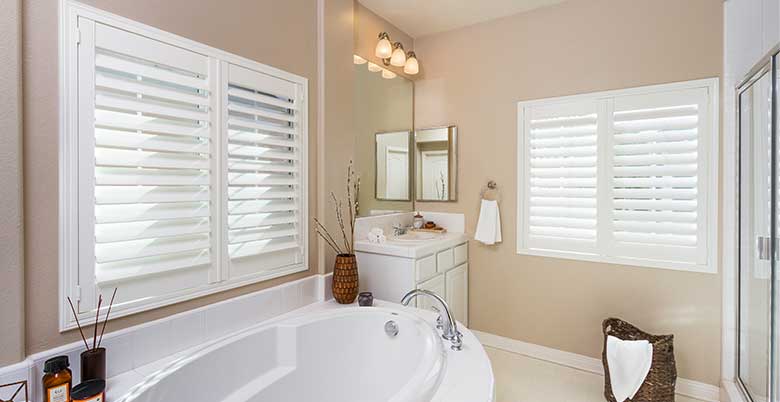 Bathroom Window Treatments – Shutters
3 Day Blinds also carries Shutters, a timeless classic. Shutters are a great way to add value to your home because they are a permanent fixture, but they also have stood the test of time. These window treatments are great for bathrooms as they come in various stains and paints. They also work great in bathrooms because they stand up to moisture well. Customizing with your unique style is easy when working with 3 Day Blinds because we handle it all for you - we design, we measure, we install, and you relax!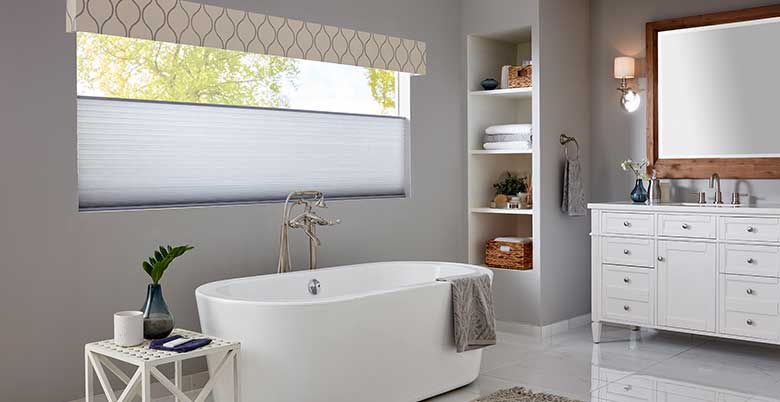 Bathroom Window Treatments – Cellular Shades
In your bathroom, do you find the temperature fluctuates too far in one direction or another? Tile floors are a heat sync and can make morning showers unpleasant due to the few degrees cooler weather. Cellular Shades are a perfect solution that provides privacy and insulation in your space. Cellular Shades are unique in their design because they use hexagonal air channels to help insulate the room they go in.
Using Cellular Shades should keep your bathroom feeling like the rest of your home, no matter what the season is. Cellular Shades also come in various opacities and are available in room darkening and light filtering fabrics, giving you the perfect light control for your bathroom.
Learn more about the benefits of automated window treatments!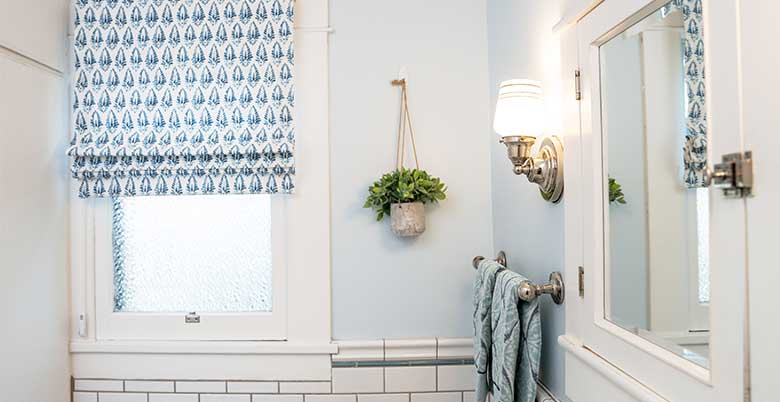 Bathroom Window Treatments – Soft Roman Shades
Does your bathroom feel like it could use a big statement piece or something that offers a subtle elegance? Soft Roman Shades might be the option for you. Soft Roman Shades are window treatments that combine some of the features of Curtains and Drapery Panels and a standard Roman Shade. Soft Roman Shades are large pieces of fabric that attach to a headrail for operation. Think of Soft Roman Shades almost like a stage curtain that moves up and down instead of left to right.
Soft Roman Shades are a great accent to your home because these window treatments bring in visual warmth to your home. They almost act as tapestries for your windows. Finding your perfect fabric is easy when you meet with one of our design consultants. These window treatments come in various fabric options and can be made with light filtering or room darkening liners to give you precisely the amount of light you are looking for.
No matter which window treatment you choose, 3 Day Blinds is here to help you design your perfect fit. Speak with a locally based design consultant today.