Schedule a FREE In-Home Window Treatment Design Consultation
Fill out the form below to find out when one of our
professionally trained Design Consultants is available in your area!
Window Fashion Week
With 45 years of experience manufacturing and design window treatments its fair to say that 3 Day Blinds knows a thing or two when it comes to window treatments. Our team of experts works hard to ensure that our fabric and material collections are stocked with fashion-forward options as well as tried and true mainstays that have stood the test of time.
Inspired by New York Fashion Week, 3 Day Blinds decided to team up with our friend and designer El Shane to try something for fun. We designed a dress! That's right, El Shane used her design eye to help craft a beautiful dress and accessories from our fabric Orbit Dusk. The idea was inspired by recent years where we were inside and had to turn inward to let our creativity fly. Home improvement projects were on the rise and El Shane even took part by designing her home with 3 Day Blinds window treatments.
While we aren't selling dresses, we are offering high-quality custom window treatments great for any home. At 3 Day Blinds we do the work for you through our locally-based design consultants who can help dress your window for any occasion. Fill out the form above to get get the process started.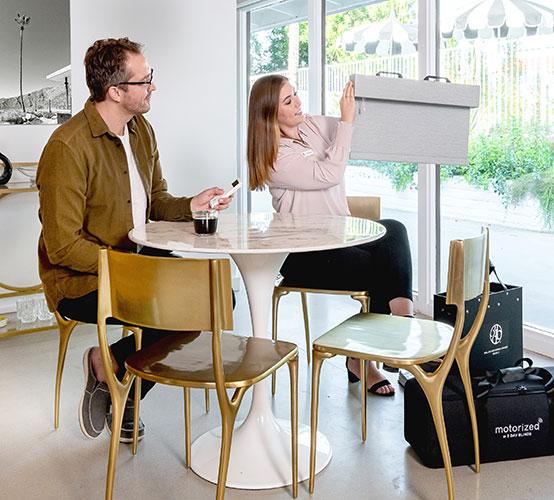 Complete the form or call and speak with a friendly 3 Day Blinds representative
Schedule a time and day that works best for your family
Our Expert Design Consultants will confirm 24 hours in advance of your appointment and arrive promptly
Consultations last approximately 2 hours. This is when you will receive design advice, measurements, and a same-day quote.
We Bring the Showroom to you! You'll be able to see what different fabrics and opacities look like in YOUR windows.