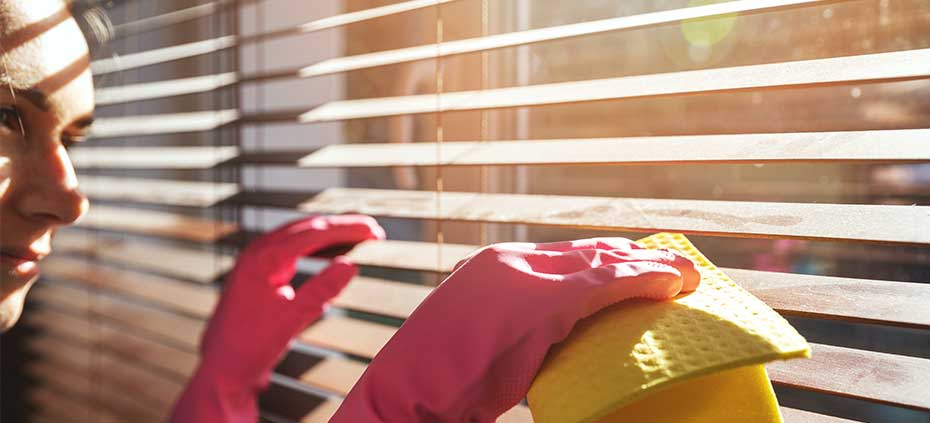 How to Clean Your Window Coverings

When it comes to house cleaning, often some features get cleaned regularly while others are easily overlooked. You may clean things like countertops, floors, and bathroom weekly, if not daily. But when was the last time you cleaned your window coverings?
Many homeowners completely forget to clean their window treatments for months at a time. Whether you have blinds, shutters, or curtains, your window coverings do need to be cleaned and well-maintained if you want to keep them in good condition. Based on the window coverings you have in your home, your cleaning information will change.
How Do I Clean My Window Coverings?
Let's start with the obvious: not all window treatments are made the same; therefore, not all should be cleaned the same. For example, cleaning and disinfecting your blinds is different from the process for curtains. Knowing how to clean your home's unique window coverings will help keep them in good condition and extend their longevity.
For horizontal metal, wood, and faux wood blinds, use wood dusting spray to clean off dirt and debris. Wipe the coverings dry afterward. For regular dusting, use a lambswool or feather duster. You can also use dryer sheets to deter dust accumulation.
With sheer vertical blinds use a hairdryer set on cool to blow off dust and debris. If you have blinds with vertical fabric casings, you can remove the cases and wash them on the gentle cycle in the washing machine. Do not put this fabric in the dryer. Instead, once they finish up in the laundry, place the fabric casings back on the blinds while still wet and allow them to drip dry over a towel
For Cellular (Honeycomb) shades, use a hairdryer as you would for vertical blinds, blowing air into the cells of the shades to remove any debris or dust that may have found its way into your shades. You should clean honeycomb shades and sheer horizontal shades as well as Roller or Roman shades with a damp cloth and mild detergent. Are you using a new detergent? Perform a small spot test on an inconspicuous area before applying it to the rest of the covering. To dust these coverings, use a lambswool or feather duster.
These soft window treatments are delicate. The only way to preserve the quality and condition of fabric coverings is to dry clean them. If you try washing them any other way, you'll essentially throw your investments out the window.
Do your curtains or drapes get dusty quickly? Use the brush attachment on your vacuum to (carefully) remove dirt between deep cleanings.

Dust your wooden shutters regularly with a lambswool or feather duster. To remove dirt, debris, and allergens, use wood dusting spray and wipe the shutters clean with a soft cloth.
When to Clean Your Window Coverings
Ideally, you'd dust your window treatments (whatever type they may be) every few days, if not every day. Every few weeks, you can perform deeper cleanings, such as wiping down with a cleanser or dry cleaning. Just be careful not to overwash your coverings; otherwise, you may cause fading or fraying.