Blackout Window Treatments Explained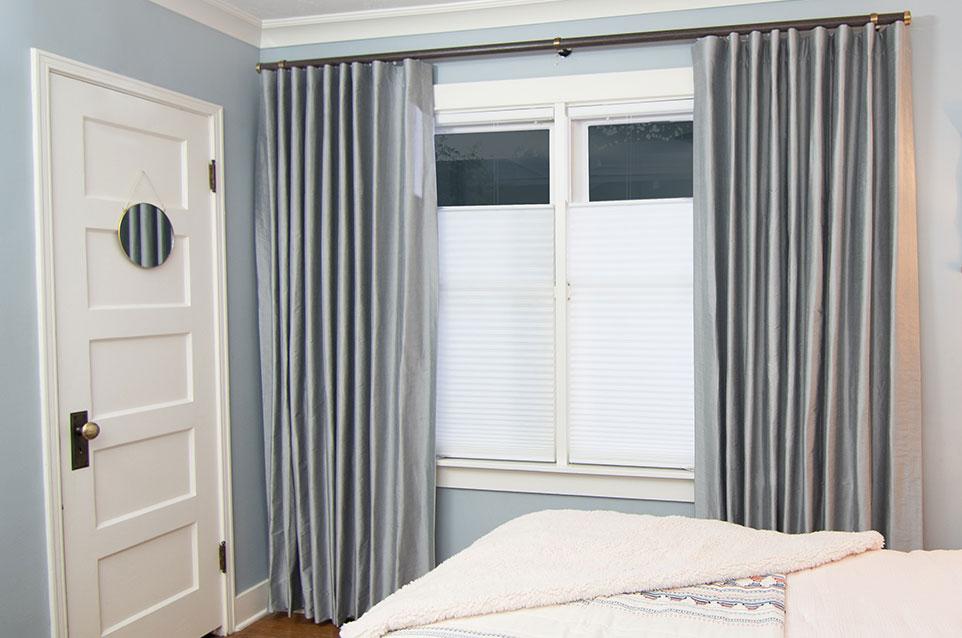 Room Darkening Window Treatments, commonly known as "Blackout" refer to Blinds, Shades or Drapery that block almost all light from entering the room. Many people use the word interchangeably which can make it confusing when you're searching for the right window coverings for your home.
Is There Such a Thing as A Blackout Window Treatment?
Even the best blackout window treatments cannot completely "blackout" the room. A true blackout window covering blocks 100% of outside light, including the "halo" of light around the edges of the window treatment. 3 Day Blinds has a wide selection of room darkening (blackout) window treatments that will block 95-99% of unwanted light.
When looking for blackout window treatments you want to ask for window treatments with fabrics made of opaque materials like vinyl, pvc, or mylar. These materials may be used to make the treatment itself or may be used as a liner behind a fabric to eliminate light from shining through.
Designing with Blackout in Mind
Light control is an important piece of designing your window treatments. Blackout window treatments are most often used in bedrooms, home theaters, nurseries and other areas where darkness is essential in creating the right conditions for the room.
3 Day Blinds has several products that are great for removing the halo effect around your window. Here are some examples to help you think of what you may want to do in your home:
Roller Shades with Side Channels
A blackout material window treatment with stationary Side Panel Drapery
Blackout Window Covering Benefits
Besides light control, blackout window treatments provide an array of benefits. One benefit is that they provide improved temperature control. Because these treatments are opaque and really block the light they also prevent some of that heat or cold from escaping the room. Additionally, they help protect your home from sun damage. The sun is harsh on things like furniture and wood and blackout materials can help prevent some of this wear on your home's items. Lastly, they offer a slight edge in a sense of privacy, due to the opaque nature of blackout materials it is harder to see through your window treatments giving you the extra feeling of security when your treatments are closed.
Learn More Today
Blackout fabric options are available in practically all of our products. Whether you're looking for blinds, shades, or drapery, 3 Day Blinds can provide you with Room Darkening options.
Our Room Darkening Window Coverings are extremely popular for bedrooms, nurseries, media rooms, or home theaters. Book your FREE in-home design consultation with one of our design consultants to find out if Blackout Window Treatments are right for you.