3 Fantastic Dining Room Window Treatment Ideas
Dinner With A View Has Never Been Easier
Than With 3 Day Blinds
One of life's great pleasures is a home-cooked meal. Part of what makes that meal so special is that someone took the time to cook a meal for you. They set the table with care and ensure that when you and other guests sit down, they feel invited and ready for dinner.
Unfortunately, with uncovered dining room windows, you may feel like this excellent meal has turned into feeding time at the Zoo. Shut out prying eyes dining room window treatments by 3 Day Blinds.
Ok, maybe that example is a little extreme, but dining room window treatments are an excellent addition to any home. These three styles are a great jumping-off point for dining room window coverings.
3 Styles for Dining Room Window Treatments
3 Day Blinds has more than 40 years of experience providing high-quality custom window treatments. We've seen it all when it comes to what people want to do with their window treatments, including trying to find window treatments for your dining room.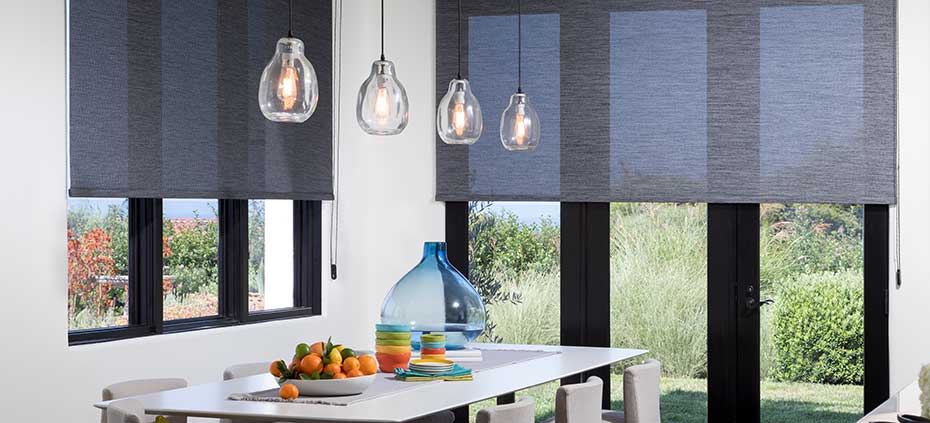 Roller Shades are versatile because of the various materials they are customized with. They can work in formal dining rooms or a room with a card table and paper plates. If you've read any of our other room inspiration articles you'll know that Roller Shades work in almost any application.
Sunset dinners are beautiful, but contending with the direct natural light from the setting sun is a battle even the most incredible host will lose. Use Roller Shades light filtering fabrics to tone down those bright sunset rays without eliminating them. A more transparent light filtering or sheer fabric will keep your dining views intact without damaging your guests' eyes.
3 Day Blinds also offers automated and motorized Roller Shades. With the help of the 3 Day Blinds Smart Hub, you'll unlock even more control. Motorized Roller Shades are programmable to work around your schedule. You can set up behaviors and timers for your shades that will have them raise and lower any time you want.
To make sunrise and sunset easier, the 3 Day Blinds app has morning and sunset timers to make planning your day much more manageable.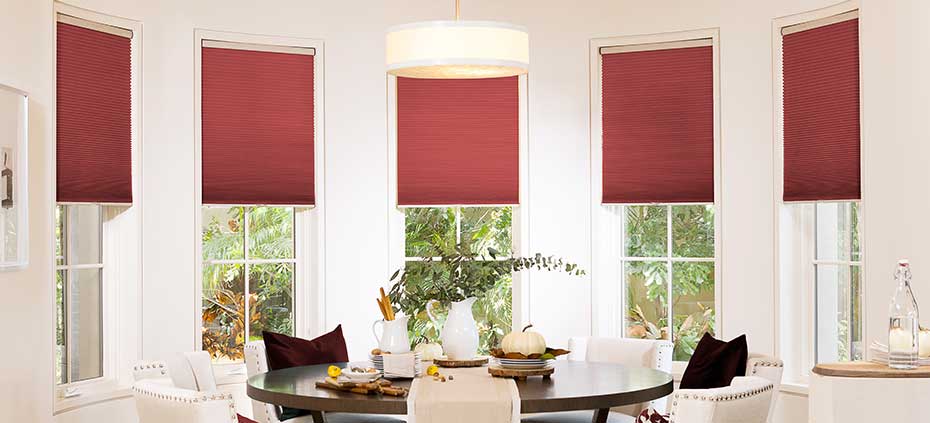 Dining Room Cellular Shades
Making sure guests are dining in comfort is a concern for most hosts. When finding chairs for your dining table, homeowners tend to lean toward comfort and function instead of trendy or artistic pieces. The same can be said for the temperature of your dining room.
Cellular Shades are a great option for managing temperature control in your home. Their unique celled honeycomb design works to create an air pocket of insulation between your window and room, helping to keep your home comfortable no matter the season. This insulation helps to block out both cold and hot temperatures, so you can maintain a consistent temperature all year long. Plus, Cellular Shades are also available in a variety of colors and textures, so you can still enjoy the aesthetics of your windows without sacrificing energy efficiency.
Homeowners are also happy to find a bonus benefit of energy savings with their window shades. More insulation and keeping the temperature in the sweet spot means spending less on heating and energy bills.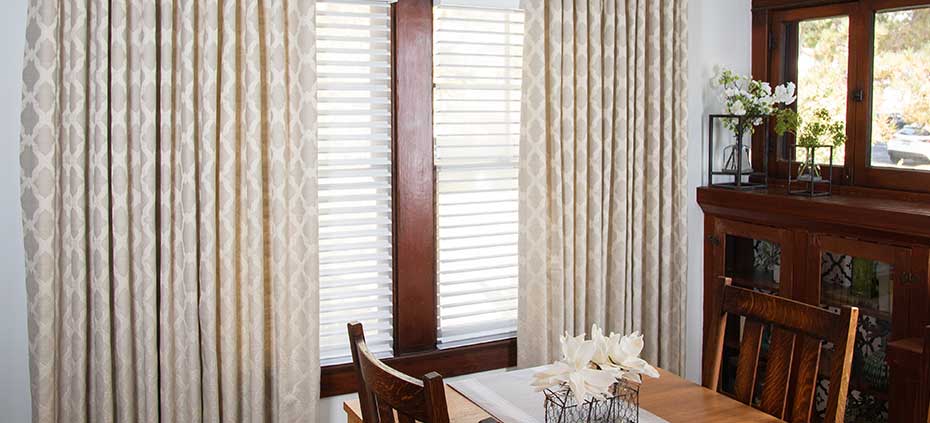 Dining Room Curtains and Drapery Panels
Have you ever been to a restaurant with a fabulous atmosphere and a great interior design? Part of the reason you like some of these fantastic designs is that they are visually attractive. Building a design around visual interest means using key pieces or elements of your room's layout to break up some details that may blend.
One way to help break up some of these design elements is to use different textures. An easy way to bring texture into any room is using Drapery and Curtain Panels.
Think of Drapery as a large tapestry for your windows and sliding doors. Our drapery and curtains panels are hand sewn in our workroom and are sure to impress your guests.
Drapery and curtains can be an ideal solution for oversized windows and doors. If you have a particularly large sliding patio door in your dining room, for example, you may be wondering how you can find a suitable window treatment for it. Fortunately, 3 Day Blinds has you covered with their Drapey range
This range offers an array of well-designed curtains and drapes that can be tailored to fit the size and shape of your windows and doors. Furthermore, they are available in a range of colors, fabrics, and styles, so you can find something to perfectly match your existing décor. With Drapey, you can have the perfect window treatment for your oversized windows and doors without having to worry about finding the right fit.
Wondering what the difference is between Drapery and Curtains? Learn the difference here.