Bedroom Blinds & Shades Inspiration!
Remove any Unwanted Distraction in your Bedroom
3 Day Blinds knows that light plays a massive role in your ability to sleep. Your bedroom is your sanctuary. You should feel calm and at peace when going to bed and feel fully rested when you wake up. Your bedroom window treatments should help you go to bed quicker and sleep more soundly.
By putting window treatments in your bedroom, you are taking a big step in getting the rest we deserve.
3 Ideas for Bedroom Blinds and Shades
We know the alliteration of bedroom blinds flows off the tongue, but remember that blinds are just one product that 3 Day Blinds offers. We offer more than just blinds; we also provide shades, shutters, curtains, and drapery panels for your bedroom. Finding the right window treatment for your bedroom is easy when working with 3 Day Blinds. One of our experienced design consultants is with you every step of the way, making the process a collaboration that leads to your dream window treatments.

The ideas below are just 3 of the examples of window treatments for your bedroom.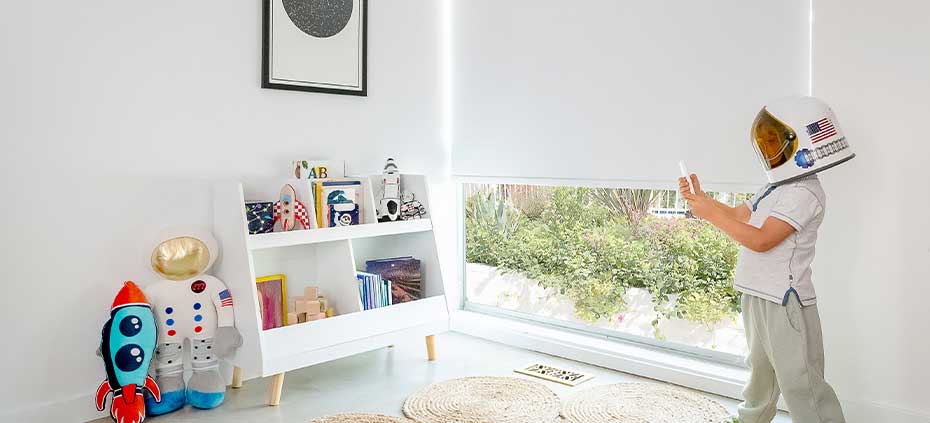 Bedroom Window Treatments – Roller Shades
Roller Shades for your bedroom is an easy way to bring a modern twist on a timeless classic. You've probably seen Roller Shades of the past. Fabric on a roll that you open and close with a pull tassel. While Roller Shades like this still exist, 3 Day Blinds manufactures our Roller Shades in various styles and options.
We have cordless and motorized Roller Shades, making these window treatments perfect for kids' bedrooms. These window treatments can be programmed to raise and lower at scheduled times, making bedtime and waking up much more manageable.
Our Roller Shades come with a cassette-style valence that helps conceal the roll of fabric, giving you that sleek finished modern look. Ask your design consultant about other options for Roller Shades. Roman shades are another fantastic option. Learn more about
choosing a Roller or Roman shade
here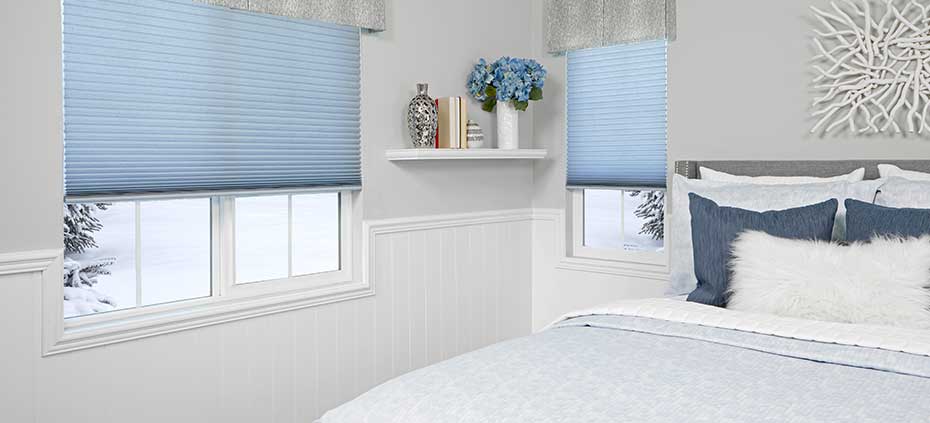 Bedroom Window Treatments – Cellular Shades
In your bedroom, the temperature plays a huge factor in staying comfortable while asleep. With 3 Day Blinds Cellular Shades, you will find that your room may be a few degrees cooler in the summer and a few degrees warmer in the winter. Our Cellular Shades (aka Honeycomb Shades) are excellent window treatments for bedrooms because they provide a layer of insulation.
Manufactured with hexagonal channels, Cellular Shades offer insulation for your bedroom. The track of air provides a layer of insulation that keeps temperatures from coming in from or escaping from your windows.
These window treatments are also available in cordless and
motorized
options with the same smart capabilities as our Roller Shades.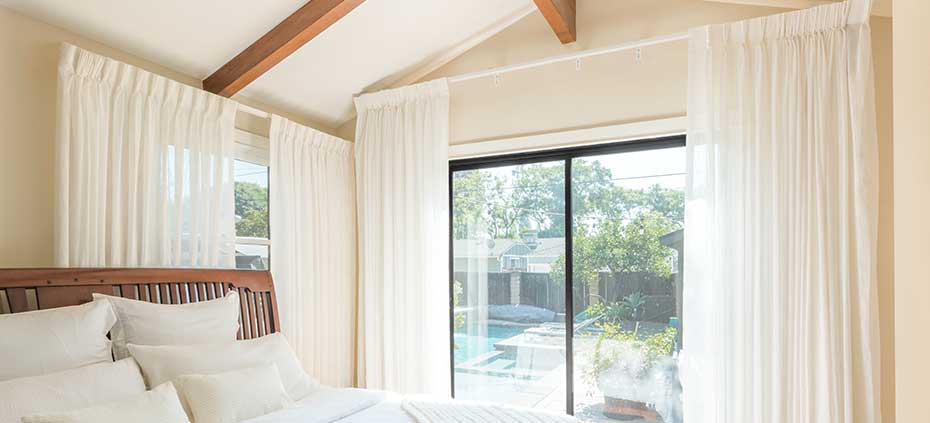 Bedroom Window Treatments – Curtains and Drapery Panels
Do you want your bedroom blinds to feel straight out of a movie? Then ditch the blinds and talk to your design consultant about Curtains and Drapery Panels. Window treatments like Curtains and Drapery Panels bring in an element of visual warmth. Think of drapery panels like large tapestries for your windows. Statement pieces that blow gently as the breeze passes through them provide peace and tranquility no matter what time of day. Learn more about the differences between curtains versus drapery.
Curtains and Drapery Panels offer the option of room darkening (blackout) and light fileting liners. These liners block out or let in as much light as you want for your room.
Do you have existing bedroom blinds and are disappointed with how little light they block in the morning? Layering Curtains and Drapery Panels on top of those window treatments is the one-two punch morning light needs to give you back those lazy weekends. Though we can't make any promises that your neighbor will not mow their lawn early in the morning, we can say that morning light will no longer be a problem.
No matter which window treatment you choose, 3 Day Blinds is here to help you design your perfect fit. Speak with a locally based design consultant today.